About the Company  
Beijing Mooyee Technology Co., Ltd. is committed to the development and promotion of high-efficient water-saving technology. The company emphasizes three concepts: environmental, intelligent, and healthy. Mooyee Technology aims to create a better world with more environmental, comfortable and healthier water using way. With continuous innovation in technology, Mooyee Technology strives to subvert the traditional idea of water use. The company independently developed the "Air Faucet System," a high-pressure atomization technology. The first generation product is an extremely efficient cleaning product with a water-saving rate of 90%. 
---
Product and Service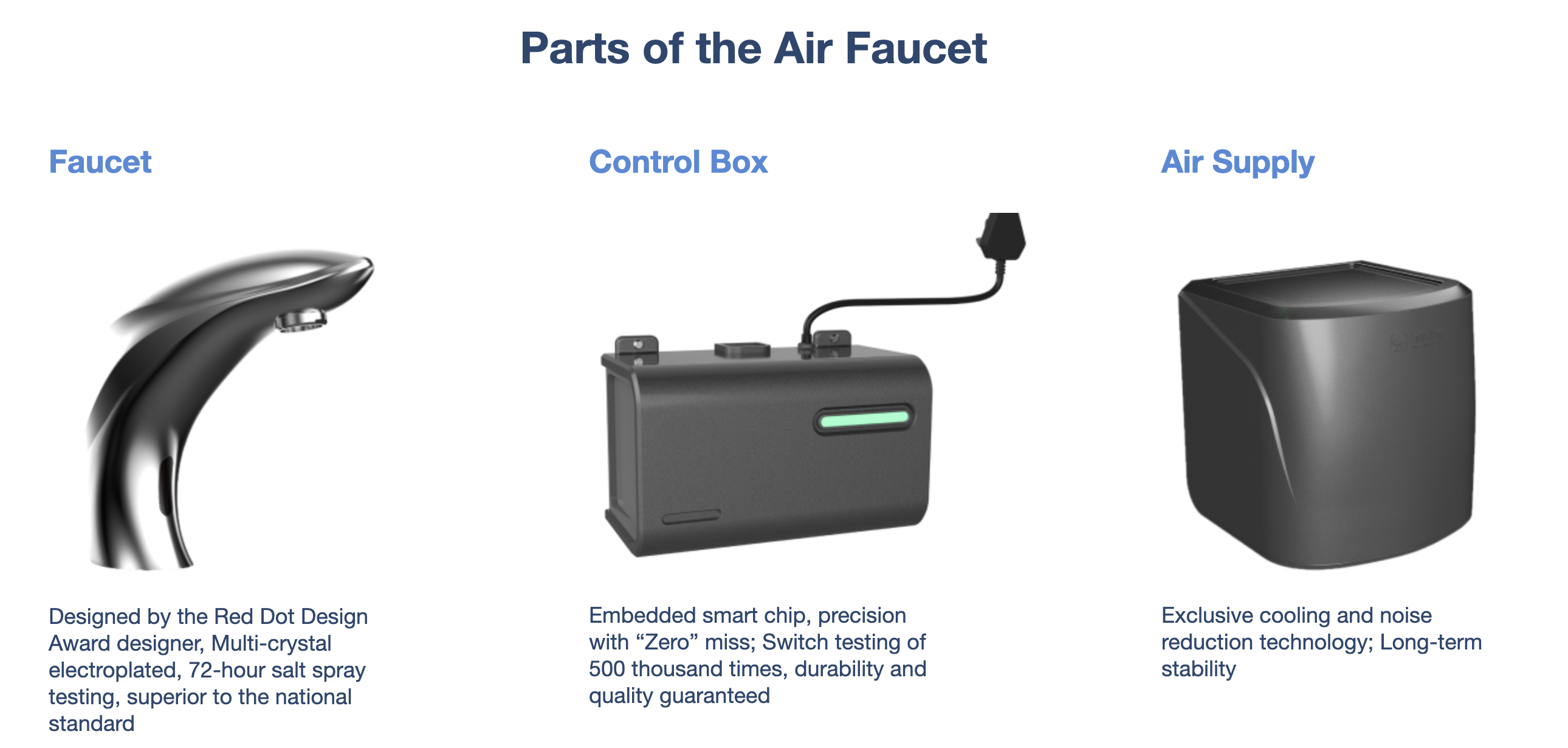 Instead of using 100% water for hands washing, Mooyee Technology has developed a high-speed airflow faucet system which can transform water into fine water mist to improve washing effectiveness. In comparison to the common water faucet, this faucet system is able to enhance the water saving rate up to 90%. As the team estimated, the users are able to cover their cost within 3 months through the savings on the water fees.
In addition to its key technology, Mooyee Technology also cares about industrial design to make its product more user-friendly. For example, the faucet system adopts an infrared sensor for switch control. In order to meet various needs for washing, the double outlet design allows users to switch freely from air washing to routine washing mode. More importantly, this water-saving faucet system looks the same as the ordinary hand washing device. It can perfectly fit into most washing basins, and users do not need to change any tube infrastructure or facilities to install this new device, which largely reduces the installation cost for customers, and simultaneously, help the company to gain a wider market.
---
Environmental and Social Impact
Mooyee Technology aims to expand its consumer base for the water-saving faucet. They aim to promote their product in public areas, such as parks, train stations, or public squares where water usage is huge but with less saving control capacity. Mooyee Technology believes that water saving is not just a technical issue. They hope to use their intervention to solve a social problem. In order to improve public awareness of water saving, Mooyee Technology sets up promotion events at public parks to educate people, especially for children and their parents, to teach them how to save water in a day to day life. 
---
Our Contribution
Li Qizhang, the founder of Mooyee Technology initially graduated from Zhejiang University, which is one of the top universities in the south of China. During the second year of his study, he and six other colleagues established Mooyee Technology. However, after graduation, all the other co-founders set off on their own paths. With a strong belief in his business, Li Qizhang decided to take his company forward. In 2017, he moved to Beijing and decided to continue his doctoral degree at Tsinghua University. Later in the year, he joined ACMFN's workshop. Our mentors set up the connection between Mooyee Technology and a leading bathroom company to help his business integrate into the market.
---
Company Situation
In 2015, Li Qizhang led his team and won first place in the Student Business Plan Competition at the 2nd Global Grand Challenges Summit. In 2016, the team won the 44th International Exhibition of Inventions of Geneva as well as the Gold Medal and Special Prize of the Italian Delegation. In 2017, Mooyee Technology has completed the R&D for the 2nd generation of the product, and it is ready to release to the market.